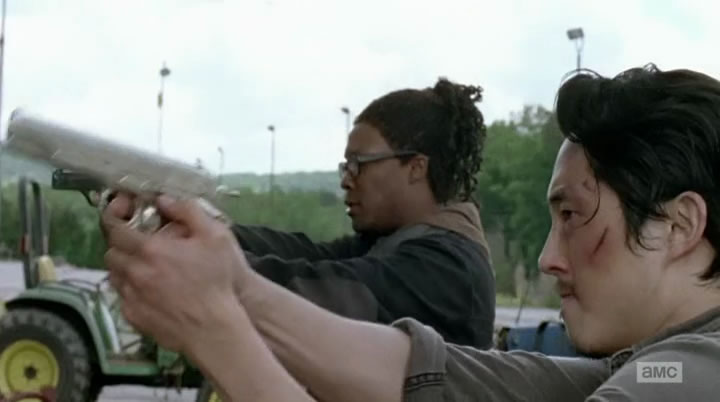 Walking Dead Season 6, Episode 1 "First Time Again" (Season Premiere)
In the Season 6 premiere, Rick and the group continue to have trouble assimilating into Alexandria; and a new threat could bring them closer together or drive them further apart.
The survivors that we've followed all the way from Georgia may be newcomers to Alexandria, but that isn't stopping them from stepping up and being the leaders that the Alexandrians need. And in the wake of Reg's death, Rick makes a bold decision to coordinate a daring zombie roundup/herding mission, that they may or may not be prepared to execute.
And as we began to see in season five, Glenn's experience as a survivor has developed him into a bit of a "zombie management specialist," with the kind of expertise that the Alexandrians rely upon.
Among the fresh-faces we meet this season is Heath, played by Corey Hawkins (Dr. Dre in Straight Outta Compton)
It was also great to see that Morgan has finally caught up with our survivors. Though as comforting as his calm presence is, it has become apparent that he and Michonne have come to an unspoken, yet uncomfortable realization about Rick's leadership. You can see it in their faces:
Watch Walking Dead Season 6, Episode 1 "First Time Again" (Season Premiere) on:
And here is a list of sponsors worth patronizing:
The entirely new Lincoln MKX #TheFeelingStays
Paranormal activity the ghost dimension
Spectre 007
Taco Bell Quesarito
Cricket wireless
Ford Edge
Toyota Columbus Day sports event buyatoyota.com
Hyundai Tucson & Santa Fe
Microsoft Surface Book
Walking dead no mans land The Walking Dead: No Man's Land by Next Games Oy
Verizon 1.866.2.join.in Vzw .com
Cadillac
Crimson peak
DirecTV.com 1-800-DIRECTV
truth Social smoking is smoking. DONT MAKE BIG TOBACCO RICHER #BIGTOBACCOBELIKE
Into the badlands
Bridge of spies
AppleWatch
Tex mex bacon thickburger @carlsjr @hardees #eatlikeyoumeanit
PlayStation
Al Pacino china doll
Raymour & Flanagan Columbus Day event
Dos equis
Scouts guide to the zombie apocalypse
Halo 5 Guardians Coming 10.27.15 exclusively to XBox One #HUNTtheTRUTH
Ash vs Evil Dead
Ram Trucks ramtrucks.com
Sprint 800 SPRINT-1 sprint.com/iphone #MoveForward
Burnt
Comic Book Men
Steve Jobs
Subaru CrossTrek
E*TRADE's Bar Code Scanner etrade.com
Taco Bell Quesarito Big Box PS4 bundle
Blue Moon
Amazon Echo
TheWalkingDeadStorySync.com
American Express Premier Rewards Gold
The Last Witch Hunter
2016 Chevy Cruze chevy.com
Honda CR-V
Verizon Wireless
letgo app iOS & Android
Jurassic World Oct 20