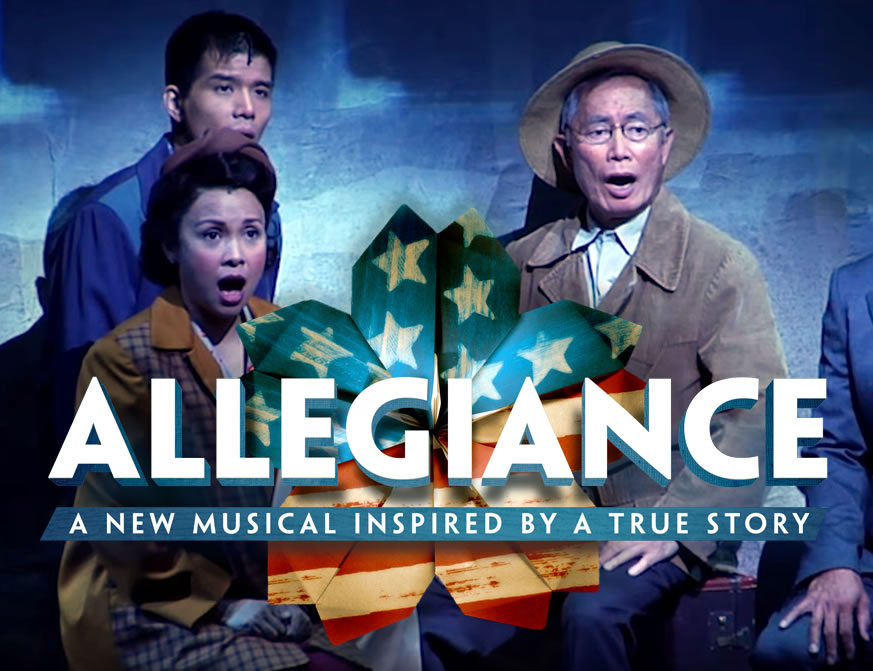 Allegiance: A New Musical Inspired by a True Story
Opening night, Sunday, November 8. Now in preview at The Longacre Theatre, 220 W 48th Street, New York, NY
Box Office Hours
Mon-Sat: 10:00am-8:30pm
Sun: 12:00pm-6:00pm
Phone: 212-239-6200
Telecharge
Told through clever lyrics set to soulful, saucy music, Allegiance is the story of an American family imprisoned by their own country during WWII. It is a historical drama seen through the lens of the fictional Kimura family. Their different approaches to defending their freedom range from stoic endurance to resistance and rebelliousness. Brought to life against a backdrop of baseball, big band jazz and swing, Allegiance may be the most American musical to hit Broadway in 2015.

The opening night isn't until November 8th, but the musical seems to be generating the kind of buzz associated with an upcoming Broadway hit. Allegiance stars Tony winner Lea Salonga, Star Trek's George Takei, and Glee Warbler Telly Leung. Equipped with their collective talent and the powerful writing of Marc Acito, Jay Kuo and Lorenzo Thione, they breathe life into stories of love and loss, loyalty and betrayal, bitterness and forgiveness.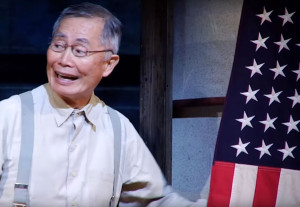 Inspired by the life experience of George Takei himself, Allegiance covers a dark period in American history during which thousands of American men, women and children were imprisoned without just cause during World War II. On April 1st, 1941, President Franklin D. Roosevelt issued Executive Order 9066, which required all persons of Takei's ancestry to evacuate their homes with nothing but the clothes on their back and the contents of their hand-carried suitcases.
Given the date of FDR's order, one might have thought of this as an elaborate April Fool's joke. Unfortunately for young George, this was no joke, as they had less than one week to comply with the order. The tight time constraint required all affected families to quickly sell their homes and liquidate their businesses at a fraction of their market value. Millions of dollars in property, businesses and income were lost in the process. The United States government subsequently shipped the three year old George Takei and 120,000 others to desolate prison camps throughout the West and this was their reality for the next three and a half years as Americans who lived in a country that perceived them as the enemy.
Allegiance opens with George Takei as the elderly WWII veteran Sammy Kimura in the present-day. Technically, it is the relatively recent past, as the book indicates the setting as San Francisco in 2001. We assume the scene is set in 2001 so that the 78 year old Takei could portray a veteran who would have been 18 when enlisting in 1941. But given the historical context of Allegiance's setting, the year 2001 could be seen as a symbolic gesture to give the show contemporary resonance in post-9/11 New York City. Given the promotional photos for Allegiance, we are surprised to find in the prologue that it is a bitter family conflict that launches Sam's flashback to the main narrative in 1941 Salinas, California.
In 1941, the young Sammy Kimura is played by Telly Leung. We get to meet Sammy's nurturing older sister Kei Kimura, performed by Lea Salonga, their father Tatsuo Kimura, played by Christòpheren Nomura, and their grandfather Ojii-Chan, played by George Takei. Other principal cast members include Frankie Suzuki, played by Michael K. Lee, nurse Hannah Campbell, played by Katie Rose Clarke, and JACL National Secretary Mike Masaoka, played by Greg Watanabe.
The events that follow span two continents, two states, three countries and sixty years. What is mainly just a footnote in American history is masterfully brought to life. As the Kimura family makes the most of their predicament, the injustices they and their neighbors endure can be felt through songs that tug at the heartstrings of the audience. We witness themes of family, country, civic duty, and the extent to which Americans find ways to embody their allegiance. As is often the case, hostility is misdirected when you don't know who the real enemy is. In Allegiance this type of conflict takes on a fractal nature, taking place on the national level, the community level, and the family level.
Throughout bulk of the story, we are kept wondering how the tender relationship between Sammy and his sister Kei could lead to the kind of bitterness and estrangement alluded to in the prologue. The dramatic suspense lies in wondering how such a conflict could ever be resolved. When the denouement eventually drops, it does so in a torrent of emotions, leaving audience members with lumps in throats and tears flowing.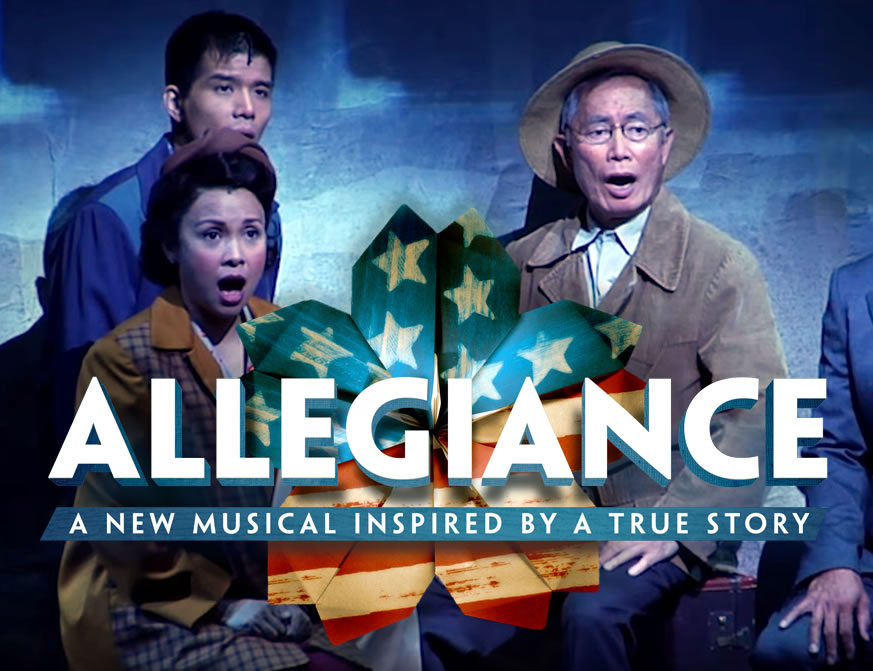 There are many glorious performances in Allegiance. Among them:
"Gaman," sung by Sammy, Kei, Tetsuo and Ojii-Chan, sets the tone for the story. The title itself means "endurance with dignity," and is the primary theme of Allegiance.
In "I Oughta Go," performed by Sammy and Nurse Hannah (Wicked's Katie Rose Clarke), there's the playful tension of a forbidden romance that can only end badly.
The coming of age ballad "What Makes a Man" in which Sammy comes to grips with what he must do to fight for his family's freedom.
Allegiance's signature piece is undoubtedly Lea Salonga's soulful performance of "Higher" which illustrates the tender dynamic between Sammy and Kei.
Under normal circumstances, I prefer to catch my Broadway shows toward the end of their theatrical run. But my wife is a Lea Salonga fan, and since it was her birthday last week, we went on our first (double) date in months (because kids). Over the summer, I had actually caught her watching preview videos of Lea singing songs from Allegiance. That said, I do not regret catching Allegiance at this early stage. It was pretty damn solid for a show in preview.
Everything I look for in a good musical came at me like a 700cfm leaf blower at full throttle. And just like someone who's been hit with a leaf blower, I had to explain to my wife that I got debris caught in my eye, and those sniffles were due to my fall allergies! My advice is: go see it sooner than later. When it eventually sells out, you'll be proud to say that you saw George, Lea, Telly in this groundbreaking American musical.
Book your tickets now:
Opening night, Sunday, November 8. Now in preview at The Longacre Theatre, 220 W 48th Street, New York, NY
Box Office Hours
Mon-Sat: 10:00am-8:30pm
Sun: 12:00pm-6:00pm
Phone: 212-239-6200
Telecharge
See also: