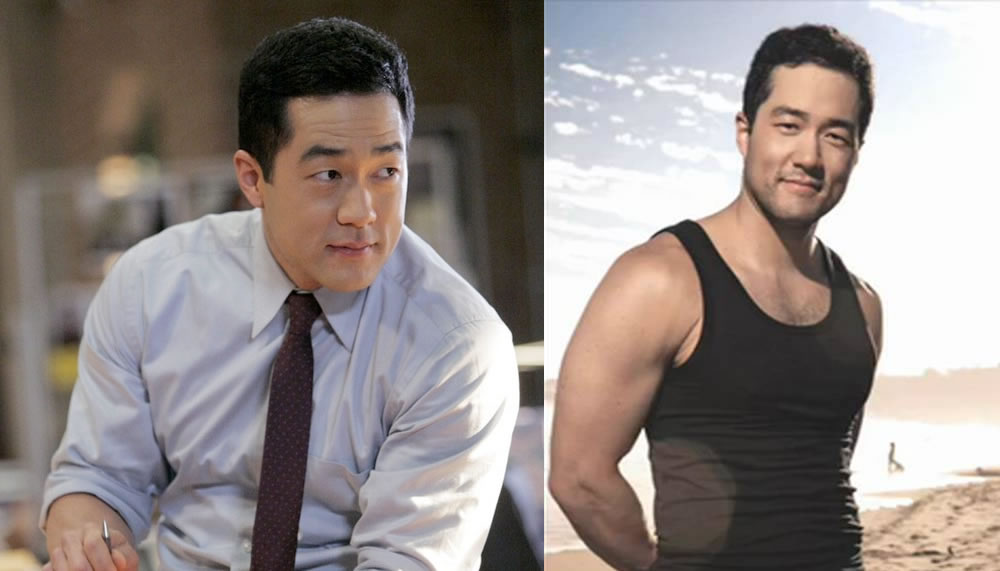 In my article for FictionDiversity, I wrote that a movie adaptation of Flash Boys: A Wall Street Revolt would be like "Jerry Maguire meets Erin Brockovich" But after re-reading the character breakdown from my October 2014 article, I've come to realize that Flash Boys, with its ragtag crew of unlikely Wall Street disruptors, is more akin to Jerry Maguire meets Ocean's Eleven.
Because the Hollywood establishment lacks imagination when it comes to casting, this is my attempt at assisting where they fall short. Just like Evan at CultureWarReporters, I'm not too knowledgeable about actors myself. But unlike Aaron Sorkin, I don't shy away from "research intensive" work. Here's my list of who I think should be cast in the Flash Boys movie…
Brad Katsuyama – Tim Kang
The Brad Katsuyama I pictured in my head looked like Tim Kang from The Mentalist precisely because of this line from the book:
"In high school the track coach thought he could be a star (he ran a 4.5-second forty-yard dash), until he told the coach that he'd rather play a team sport—he stuck with hockey and football."
There's no way Brad ain't a buff dude.
Ashley Katsuyama – Rachel McAdams
Brad's wife Ashley is only mentioned twice in Flash Boys. But a dramatization of Brad's most critical moments of introspection would be incomplete without her input.
Ronan Ryan – Colin Farrell
From the book:
He had pale skin and narrow, stooped shoulders, and the uneasy caution of a man who has survived one potato famine and is expecting another.
It could have been a lot worse, but that is probably the most offensive depiction of an Irish person ever written in the 21st century. You could have done better than that, Michael Lewis.
I was caught by surprise when Ronan Ryan was introduced in Chapter Three because I actually graduated with this guy. I didn't know him well, but mutual friends say he was fun-loving, down to earth and could be irreverent when necessary. A classmate of ours even suggested that Ronan could play the part himself. But in case Ronan says "Fuck NO" to that, I'm pretty sure Colin Farrell can do the job, and something tells me he can even approximate Ronan's accent too.
Rob Park – John Cho, Jack Yang, or Godfrey Gao??
From the book:
Park, a fellow Canadian, was a legend at RBC. In college in the late 1990s he'd become entranced by what was then a novel idea: to teach a machine to behave like a very smart trader. "The thing that interested me was taking a trader's thought process and replicating it," Park said.
Okay, this was a tough one: John Cho because everyone loves Harold from Harold and Kumar. Jack Yang and Godfrey Gao because they're both Canadian. The other reason Gao is on this list is because international distribution is a major factor to consider when obtaining financing for a film. Although Gao isn't well known in North America, this Luis Vuitton model is very recognizable and therefore quite bankable in Taiwan, China, and all over Asia. The only problem with him is that he's spent so much time in Asia, that he no longer sounds Canadian. Perhaps a dialect coach could help with that.
With that in mind, I'd like to know who you'd choose to portray Rob Park. Make your choice in the poll below:
John Schwall – Jonah Hill
From the book:
Schwall's problem wasn't an uncharming taste for corporate politics but a charming ineptitude at playing them, Brad decided. ("Anyone who was politically astute never would have done this.") He nevertheless stumbled into politics often enough and played them badly enough that Brad finally came up with a name for the resulting mess: a Schwalling. "A Schwalling is when he does something unintentionally idiotic that makes him look stupid," said Brad.
I have a feeling that a role like this needs to go to an actor with an innate sense of comic timing. After his stellar performance in The Wolf of Wall Street, I cannot think of anyone better than Jonah Hill for this role.
Sergey Aleynikov – Zach Galifianakis
I know this is a bit of a bold choice. But when I read of the tragedy that Sergey Aleynikov endured, and the fact that he took it all in stride, I imagined someone out of an Antonin Chekhov story. I imagined someone who's weathered some hardship, but had the capacity to smile through it all. And then I came across this photo of Zach Galifianakis. I don't know if Galifiniakis can pull off a Russian accent, but if he can do it, he'd be perfect.
My original choice was Lev Gorn, an actual Russian American who speaks Russian fluently on FX's The Americans. 
Allen "The Golden Goose" Zhang – Ken Jeong
From the book:
Allen was also incomprehensible: What was just possibly English came tumbling out of him so quickly and indistinctly that his words tended to freeze the listener in his tracks. As Brad put it, "Whenever Allen said anything, I'd turn to Rob and say, 'What the fuck did he just say?'"
At the risk of getting him typecast, I'm suggesting Ken Jeong for the role of Allen "The Golden Goose" Zhang. It would be no stretch at all for Jeong to take his Mr. Chow character from the Hangover movies and just amp-up the accent so that we can have Brad ask Rob, "What the fuck did he just say?"
Dan "Puz" Aisen – Jesse Eisenberg
I'm just mad that Em Liu at
FictionDiversity.com
already thought of Michael Cera, and I didn't. That's a hard choice to beat. So I'm just going to suggest the next best thing: Jesse Eisenberg
Zoran Perkov – Ryan Gosling
From the book:
He was twenty-six years old, tall and broad, with hooded eyes that saw everything in one shade of gray or another. Born in Croatia, into long lines of fishermen and stonemasons, he'd moved with his parents to the United States when he was a small child.
I know a handful of Croatians, and actually got to visit a Croatian-speaking area of Bosnia when I was a kid. Every Croatian person I know, without exception, is a slender, snappy dresser with clothes that look custom tailored. Kind of like Ryan Gosling.
Don Bollerman – Matt Damon
From the book:
…how badly he wanted not to be surprised by his own life. On top of that, he'd grown up in the Bronx and carried with him a resistance to sentiment. He ripped the filters off cigarettes before he smoked them. How much he wished to manage these emotions could be seen when they were at their least manageable. On September 11, 2001, Don worked at a small new electronic stock exchange on the twelfth floor of 100 Broadway, five hundred yards from the World Trade Center. He'd arrived at seven that morning.

…in Harlem, some women were waiting outside their homes with fruit juice for him to drink. "That one caught in my throat," he said. He added quickly, "Actually, I feel like a bit of a pussy, that it got to me that way."
Everything about his depiction in the book indicates a rugged, blue-collar upbringing while managing to hold his own in the trenches of Wall Street. Someone who has demonstrated the ability to straddle that line is Matt Damon. Plus, in keeping with the Ocean's Eleven theme, Damon seems like he could totally fit in with this ragtag bunch of underdogs.
Another actor who could probably pull that off is my second choice, Jon Hamm:
Now that he'll be done being Don Draper for good, he can still play another New Yorker named Don. And he can keep smoking those cigarettes too.
Francis Chung – Harry Shum Jr.
From the book:
With Francis he had no idea. Every question elicited some choked reply. Desperate to get something, anything, out of him, Brad finally asked, "All right, just tell me: What do you like to do?" Francis thought about it.
"I like to dance," he said. Then he went completely silent.
After Francis had left, Brad hunted down Puz. "Are you sure this is the guy?" he asked.
"Trust me," said Puz.
It took roughly six weeks for Francis to get comfortable enough to speak up. Once he did, he wouldn't shut up.
It's quite unlikely that the Flash Boys movie would present an opportunity to demonstrate Francis Chung's love for dancing. But in case they decide to go in that direction, they might as well have someone who can actually dance.
Billy Zhao – Ki Hong Lee
I have no idea what this guy looks like. Maybe he looks like this guy from
The Maze Runner
 and 
Unbreakable Kimmy Schmidt.
Dan Spivey – Woody Harrelson
In
Flash Boys
, Dan Spivey is the guy who set out on a quixotic quest to build the straightest, shortest fiber optic line from Chicago to northern New Jersey. Here's how he was depicted in the book:
Spivey was the closest thing the workers had to an explanation for the line, or the bed they were digging for it. And Spivey was by nature tight-lipped, one of those circumspect southerners with more thoughts than he cared to share. He'd been born and raised in Jackson, Mississippi, and, on those rare occasions he spoke, he sounded as if he'd never left.
Here's how my mind worked to come up with Woody Harrelson: Southern man + businessman + digging shit up all over the place = oil tycoon = Texas = Woody Harrelson
So there you have it, casting directors. Who would you cast? Put together your own list, or tweet your cast picks to Tweet #TheSorkinChallenge
Other blog posts in this series: