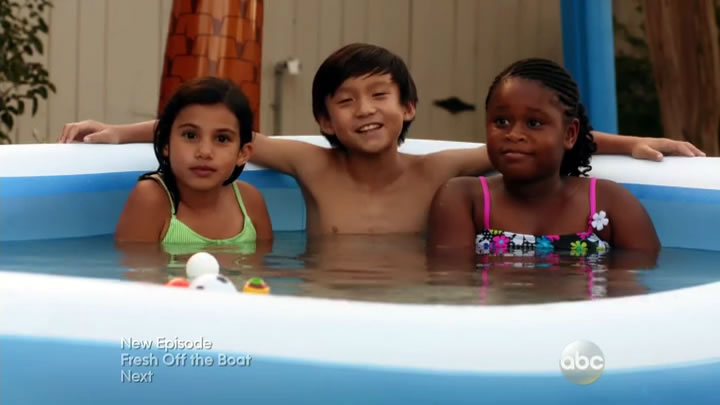 Watch Fresh Off The Boat Season 1, Episode 3 "The Shunning"
When the cul-de-sac plans a block party to celebrate NASCAR, Louis (Randall Park) urges the family to use the event to make new friends (and promote Cattleman's Ranch Steakhouse). But Jessica (Constance Wu) has problems fitting in, especially after she
befriends a beautiful trophy wife the roller blade moms don't like. Meanwhile, Eddie (Hudson Yang) schemes to win the respect of the neighborhood kids.
Notable tweets:
In response to our tweet,
THIS has to be the best frame of tonight's @FreshOffABC episodes #FreshOffTheBoat @wheeler_forrest pic.twitter.com/tZZInDIXa6

— RealMericans (@RealMericans) February 11, 2015
Patrick Epino reminded us of this fly dude from the 1990s:
@originalspin @RealMericans @wheeler_forrest I'll be honest, reminds me of this guy. #TomVu pic.twitter.com/Zm8sdVbUsg

— Patrick Epino (@PatrickEpino) February 11, 2015
---
Watch Fresh Off The Boat Season 1, Episode 4 "Success Perm"
Family rivalry spirals out of control when Jessica's (Constance Wu) sister, Connie (Susan Park), and her far more affluent husband come to visit. The Huangs try to convince everyone they're doing great financially, when nothing could be further from the truth. Meanwhile, Eddie (Hudson Yang) is excited to be reunited with his cousin Justin (Lance Dae Lim), who introduced him to hip hop, until he learns the kid has moved on to grunge.

Here are some sponsors worth supporting: