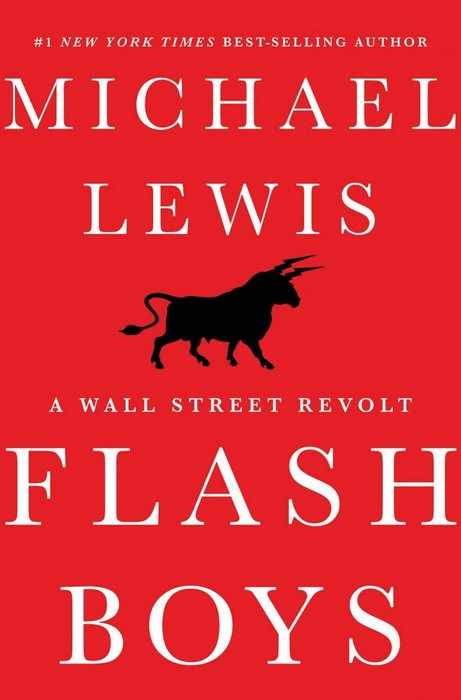 In April, Sony announced plans for a movie based on Michael Lewis' latest book Flash Boys, with Scott Rudin producing and Aaron Sorkin adapting the screenplay. The book is about the rise of high frequency trading (HFT) in the US equity market and one man's campaign to neutralize what he believes to be the unfair systems employed by HFT traders. If Flash Boys makes it to the big screen, this will be Lewis' third movie adaptation after The Blindside and Moneyball.
As the Flash Boys movie enters production, you can imagine how tempting it will be for Scott Rudin to cast guys like Brad Pitt, Christian Bale or Leonardo DiCaprio in the principal roles. That would be unfortunate of course, because none of those guys is from Canada, and the real hero of Flash Boys is a banker named Brad Katsuyama, a third generation Canadian. In the book, he is described as a well-rounded guy: a high school football star, hockey player and straight "A" student. Other key characters in the book are guys named Rob Park, Allen Zhang, Francis Chung, Billy Zhao and Larry Yu. None of them are portrayed in Flash Boys as the stereotypical cliches we're used to seeing (except maybe Allen Zhang!).
Even if these characters were faithfully cast, there's one strategy that Aaron Sorkin could employ to demote them to supporting roles: he could shift the narrative perspective to that of Ronan Ryan, a young Irishman whose speech is peppered with liberal servings of the word "fuck." I fondly remember Ronan from college, and so I was surprised to encounter this irreverent kid we knew from school embroiled in the high-stakes drama of neutralizing the HFT infrastructure. Lewis' depiction of him is not only spot-on, but also one of the most entertaining elements in the entire book. Ronan is the character who turns what would otherwise be a serious drama into a "dramedy" reminiscent of Jerry Maguire.
Like I've said, Brad Katsuyama is the true hero of Flash Boys. He's the leader, visionary, swashbuckling rebel, savior and messiah of this story, while Ronan is very much Brad's comical, yet indispensable sidekick. Ronan is the Robin to Brad's Batman, the Kato to Brad's Green Hornet, the Rod Tidwell to Brad's Jerry Maguire. While conventional casting could still result in critical acclaim and box office success, the cultural and class backgrounds of the Canadian jock and blue-collar Irishman are integral to their motivations and their ability to accomplish what they did.

With that in mind, I'd like to propose a mock casting call for Sony's Flash Boys film project. If you've read Michael Lewis' Flash Boys, who would you call in for auditions? Tweet your casting call choices here: Tweet #TheSorkinChallenge

---
Here is a list of the major players, with quotes from the book:
Bradley Katsuyama male, Asian, 25-35: the real hero of this story. Natural leader, the kind of guy people want to follow. Suggested actors: Rich Ting, John Wusah, Brian Tee, Steven Yeun, Parry Shen, Godfrey Gao, John Cho, Charles Luu
…"To be honest, the only time I've ever felt like a minority is this exact moment. If you really want to encourage diversity you shouldn't make people feel like a minority." Then he left. The group continued to meet without him.

The episode said as much about him as it did about his new home. Ever since he was a little kid, more by instinct than conscious thought, he had resisted the forces that sought to separate him from any group to which he felt he belonged. When he was seven his mother told him he'd been identified as a gifted student, and she offered him the chance to attend special school. He told her he wanted to stay with his friends and attend the normal school. In high school the track coach thought he could be a star (he ran a 4.5-second forty-yard dash), until he told the coach that he'd rather play a team sport—he stuck with hockey and football. Upon leaving high school at the top of his class, he could have gone on scholarship to any university in the world: He was not only the best student but a college-caliber tailback and a talented pianist. Instead he chose to follow his girlfriend and his football teammates to Wilfrid Laurier University, an hour or so from Toronto.

…THERE WAS NO way he, Brad Katsuyama, was going to go below the surface of the technology. People always assumed, because he was an Asian male, that he must be a computer wizard.

…Vincent Daniel, the head strategist at Seawolf, put it another way. He took a long look at this unlikely pair—a Canadian Asian guy from this bank no one cared about, and this Irish guy who was doing a fair impression of a Dublin handyman—who had just told him the most incredible true story he had ever heard, and said, "Your biggest competitive advantage is that you don't want to fuck me."
Rob Park male, Asian, 25-35: One of Katsuyama's sidekicks. Suggested actors:  Steven Yeun, John Cho, Charles Luu
Park, a fellow Canadian, was a legend at RBC. In college in the late 1990s he'd become entranced by what was then a novel idea: to teach a machine to behave like a very smart trader. "The thing that interested me was taking a trader's thought process and replicating it," Park said. He and Brad had worked together at RBC only briefly, back in 2004, before he left to start his own business, but they had hit it off. Rob took an interest in the way Brad thought when he traded. Rob then turned those thoughts into code. The result was RBC's most popular trading algorithm.
Allen Zhang male, Asian, 25-35: The Golden Goose. Suggested actors: Ken Jeong, Masi Oka
Allen, Brad noticed, had no interest in conforming to the norms of corporate life. He preferred to work on his own, in the middle of the night, and refused to ever take off his baseball cap, which he wore pulled down low over his eyes, giving him the appearance of a getaway driver badly in need of sleep. Allen was also incomprehensible: What was just possibly English came tumbling out of him so quickly and indistinctly that his words tended to freeze the listener in his tracks. As Brad put it, "Whenever Allen said anything, I'd turn to Rob and say, 'What the fuck did he just say?' "
Francis Chung male, Asian, early 20s: Suggested actors: Harry Shum Jr., Justin Chon, Yoshua Sudarso
"I'm not sure how good I am," said Francis.
"You just won the national puzzle-solving championship!"
Francis thought about that some more.
"Yeah, I guess," he said.

…Desperate to get something, anything, out of him, Brad finally asked, "All right, just tell me: What do you like to do?" Francis thought about it.
"I like to dance," he said. Then he went completely silent.

…It took roughly six weeks for Francis to get comfortable enough to speak up. Once he did, he wouldn't shut up.
Billy Zhao male, Asian, 25-35: Made redundant by code he wrote himself. Suggested actors: Yoshua Sudarso
Larry Yu male, Asian, 25-35: Harry Shum Jr., Justin Chon, Ki Hong Lee, Yoshua Sudarso
…whom Brad thought of as the guy with the box of Rubik's cubes under his desk. (The standard 3×3-inch cube he could solve in under thirty seconds, and so he kept it oiled with WD-40 to make it spin faster. His cube box held more challenging ones: a 4×4-incher, a 5×5-incher, a giant irregularly shaped one, and so on.) Yu generated two charts, which Brad projected onto the screen for the investors.
Ronan Ryan male, caucasian, 25-35: Irish kid. Suggested actors: Jamie Bell, Michael Fassbender, Allen Leech (Branson on Downton Abbey)
I actually find this description of him quite offensive:
Part of Ronan's problem was that he didn't look like a Wall Street trader.

He had pale skin and narrow, stooped shoulders, and the uneasy caution of a man who has survived one potato famine and is expecting another.
Narrative could begin at the personal turning point for Ronan:
On another level, the question answered itself. "Too much was riding on me," he said. "And I felt like I owed Brad. He was the one who gave me a chance.

"I give what we have right now a ten percent chance of working," Ronan told his colleagues. "But with the four of us I give us a seventy percent chance of figuring it out."
Other major characters:
Sergey Aleynikov male, caucasian, 35-45: Russian programmer Goldman Sachs accused of corporate expionage/theft, wrongfully convicted
John Schwall male, caucasian, 25-35: brash, former manager in Bank of America's electronic trading division;
Schwall wanted to feel toward a Wall Street bank what a fireman is meant to feel toward his company. "I thought I'd be at Banc of America forever," Schwall's problem wasn't an uncharming taste for corporate politics but a charming ineptitude at playing them, Brad decided. ("Anyone who was politically astute never would have done this.") He nevertheless stumbled into politics often enough and played them badly enough that Brad finally came up with a name for the resulting mess: a Schwalling. "A Schwalling is when he does something unintentionally idiotic that makes him look stupid," said Brad.
Don Bollerman male, caucasian, 25-35: 9/11 story:
…how badly he wanted not to be surprised by his own life. On top of that, he'd grown up in the Bronx and carried with him a resistance to sentiment. He ripped the filters off cigarettes before he smoked them. How much he wished to manage these emotions could be seen when they were at their least manageable. On September 11, 2001, Don worked at a small new electronic stock exchange on the twelfth floor of 100 Broadway, five hundred yards from the World Trade Center. He'd arrived at seven that morning.

…in Harlem, some women were waiting outside their homes with fruit juice for him to drink. "That one caught in my throat," he said. He added quickly, "Actually, I feel like a bit of a pussy, that it got to me that way."
Zoran Perkov male, caucasian, 25-35: Born in Croatia, into long lines of fishermen and stonemasons…
On the morning of September 11, 2001, Zoran Perkov took the subway from his home in Queens to Wall Street, as he did every day. As usual, he wore headphones…
The car lurched out of the station and into the dark tunnel, then stopped. "That's when my ears popped," said Zoran.

…he noticed a guy trying to open a window, and he hollered at him to stop. Who gave you the authority? the guy screamed back at Zoran. "It's smoke," Zoran shouted. "Breathe it. Die. It's that fucking simple."

…on the Lower East Side. "It's the projects," said Zoran, "and people are coming out with cups of water and all of their cordless phones. To help. That's when I started to cry."

He'd been jarred into a new kind of awareness, and interest in the people around him, and he liked the feeling.
Dan Aisen male, caucasian, early 20s: puzzle master (Puz), twenty-year-old Stanford junior